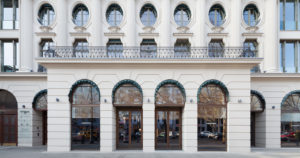 ALHAMBRA BERLIN represents
leading & evolving brands alike, visionary artists, and bespoke designers on over 1000 square meters amidst Berlin's luxury shopping mile Kurfürstendamm.
The building with a moving history provides a temporary home for carefully curated occupants and their products and creations from the fields of fashion, design, art, luxury travel, and lifestyle and combines a mixture of showroom, gallery, event space, and store and serves as a symbiosis of modern sales tool and marketing activities.
read more
We pursue the goal of disrupting the conventional models of retail and adapting them to the demands of contemporary consumers. For our brands, we offer a powerful media outlet, a modern platform for engagement & trade that serves as 
an impactful targeted promotion channel fit for a changing retail landscape.